WELCOME TO MOONRAKER TELESCOPES
THE HOME OF UNIQUE AND BESPOKE REFRACTORS
Creating originals not replicas



Zeiss 80mm f15 in 24 carat gold plate.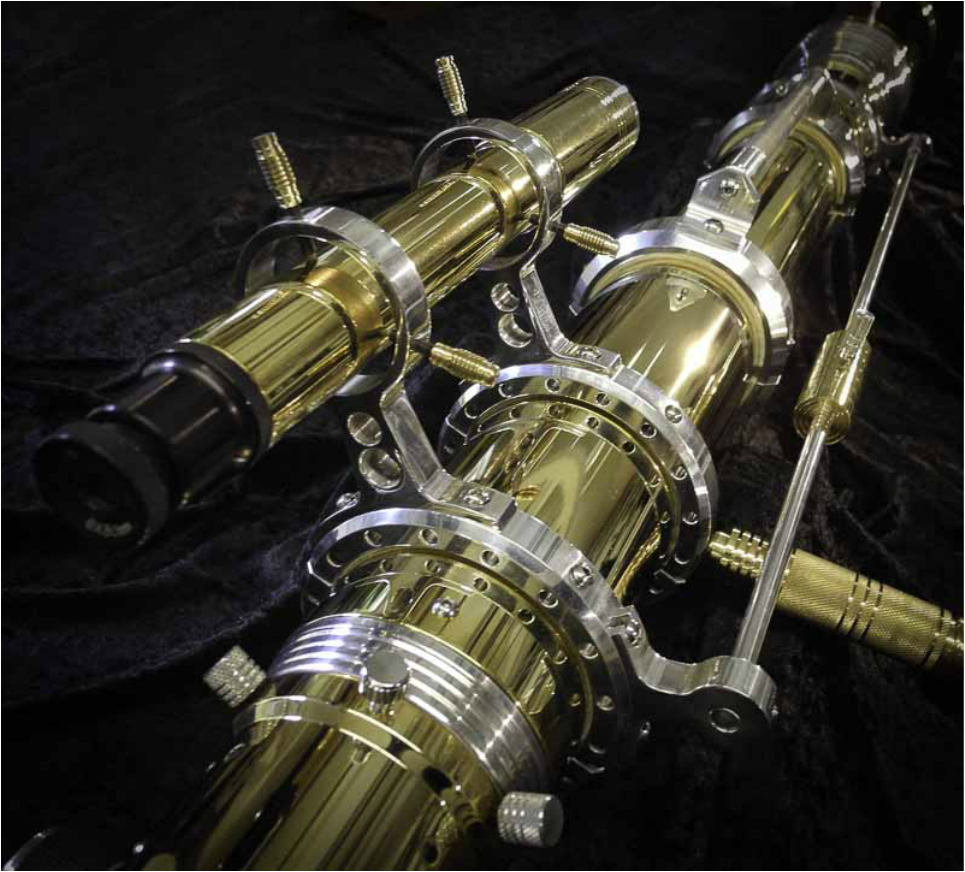 The New 102 f12 Nebula Class refractor, pick your own colour and finish.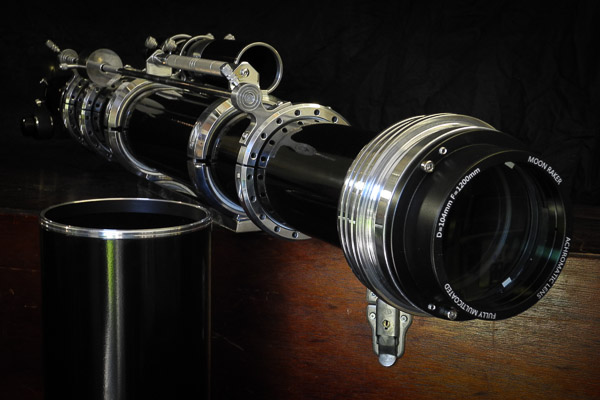 Moonraker Telescopes


Established one year. Happy Birthday!!
Moonraker Telescopes is to go VAT registered at the end of June 2014.
see the blog for more info.

"The Artistry behind the Utility"
These telescopes are not style over substance, they are beautifully engineered, classic refractors that embody the highest standards of a bygone era. Each one being created for the discerning astronomer who is seeking a unique instrument to survey the heavens. With focal lengths from f5 through to f16, Moonraker Telescopes has sought to design refractors unlike any other. Acknowledging that astronomers desire refractors that best suit their area of astronomical interest, we have never been a "one tube fits all" telescope maker, which is what makes us unique.


"If Isambard Kingdom Brunel had fancied photographing the heavens, he'd be triumphantly having his picture taken next to this astro-imaging contraption..........................."
Simon Osborne-Walker, Editor Stuff Magazine.
"This is the most stylish telescope we've ever featured in All About Space magazine,...quicker to cool down to outside temperatures than standard refractors....a focuser tube that turns with incredible smoothness...a top quality coated lens...you're certainly getting every penny of your money's worth. A perfect marriage between high end telescope and vintage sci-fi pop"

Editors choice, "All About Space" Magazine, testing the 80mm Dark Matter prototype in preparation for the 102 f7 high spec triplet which will launch soon..................


"What is the most beautiful looking telescope you have ever seen ? A good question ! Whatever your answer was - it's incorrect - this unit IS the best looking telescope you have ever seen - and also one of the highest performing - now you can own one yourself !!"
Cris Ellis, Owner of Astronomy Alive, Australia's Premier Telescope outlet.


This is what Mr Yates had to say about the f5 Wideboy RF Moonraker telescope..........

"Well what can i say about the 6" Moonraker F5 Refractor Well the first thing is it's fit and finish screams quality and outstanding craftsmanship the attention to detail is second to none this kind of craftsmanship seems to be from a bygone era when making money was not the main aim Mark in my opinion is a man who Love's to make telescopes first and foremost and wants to supply a quality product.
THE SCOPE IN USE IN THE FIELD. I used the 6" f5 Rich field refractor over a few nights at Kielder star party and found that it gave stunning views of many deep sky objects (with and without filters) M31 was a sight to behold the double cluster shone out like diamonds on a jet black background M57 was fantastic at different magnifications the dumbbell nebular again stunning i would say that the scope gave me some of the best views i have ever seen.through a telescope of this type and size." Tom Yates


---------------------------------------------------------------


We create our stunning telescopes with top flight optics. All of which produce stunning views of the heavens. Whether you choose to study double stars, traverse the surface of the moon and planets, seek out a myriad of galaxies or lose yourself in the Milky Way we have a refractor design that is right for you.

We offer a range of telescopes to suit all astronomers who want more than just a mass produced telescope at a price that reflects exceptional value for a bespoke handmade refractor.

We also undertake bespoke commissions, converting your existing refractor or creating a completely new model especially for you.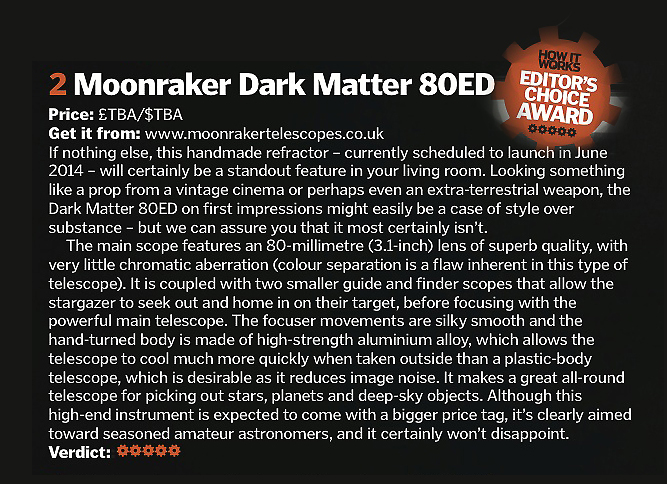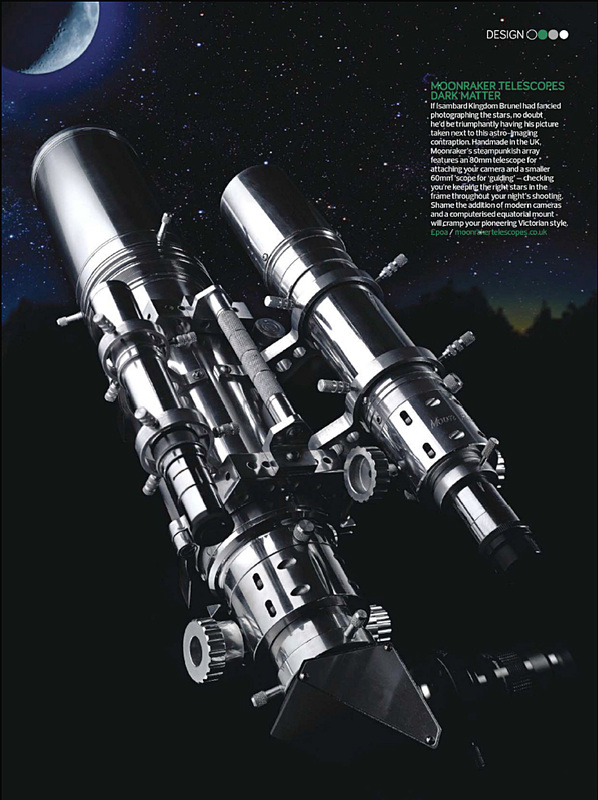 Image curtasy Of "Stuff" Magazine, the worlds No1 magazine for innovation & design. And they came to Moonraker for the ultimate Refractor!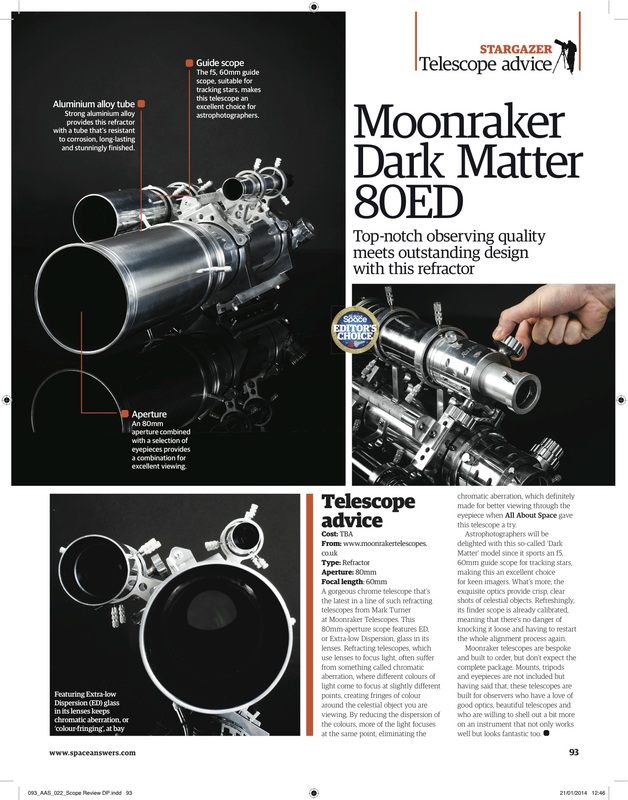 Another Editors choice form This Months "All About Space " magazine